aluminum foil back fiberglass cloth,Reflective And Silver Roofing Material Aluminum Foil Faced Lamination
Product Description
Certifications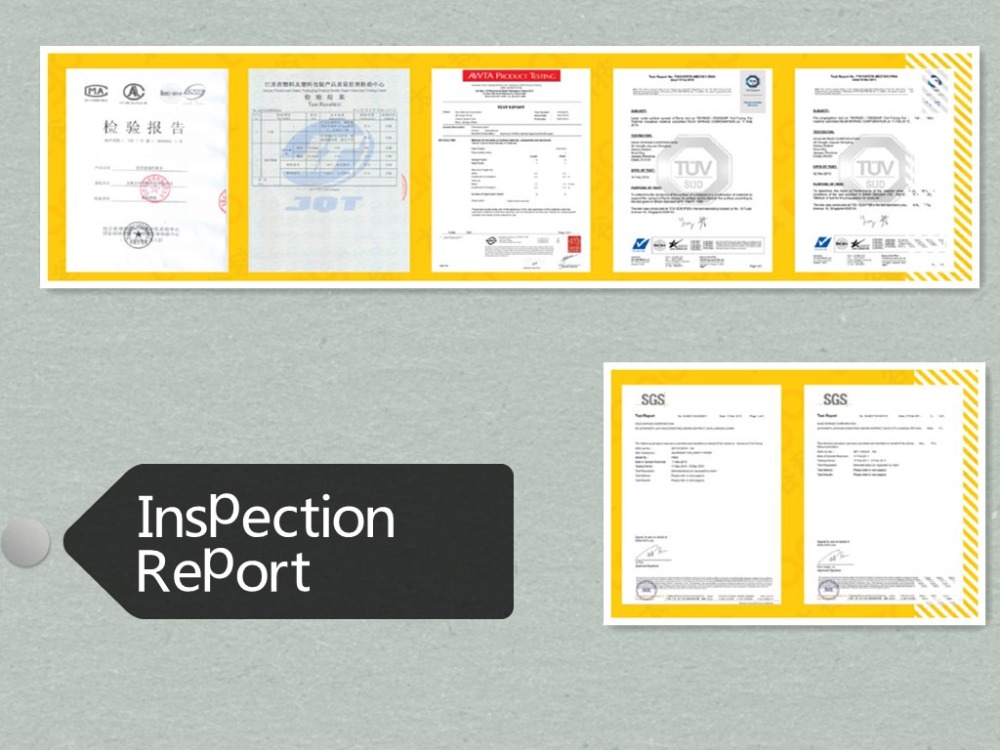 Product Overviews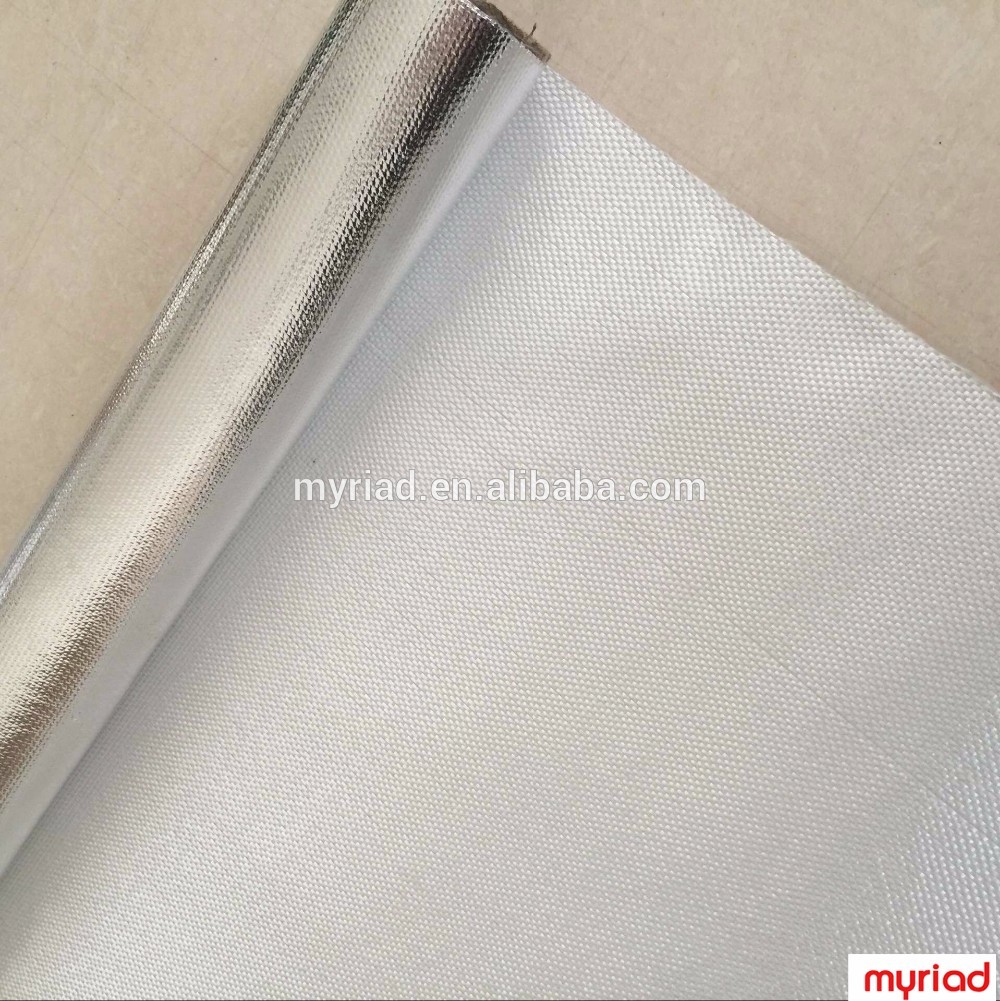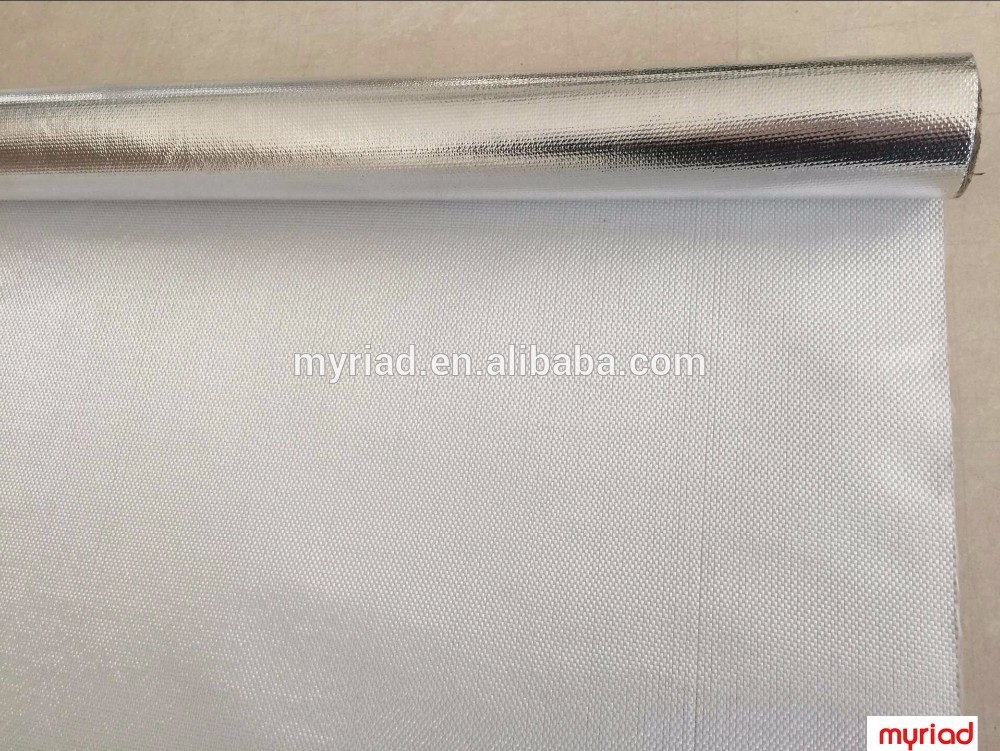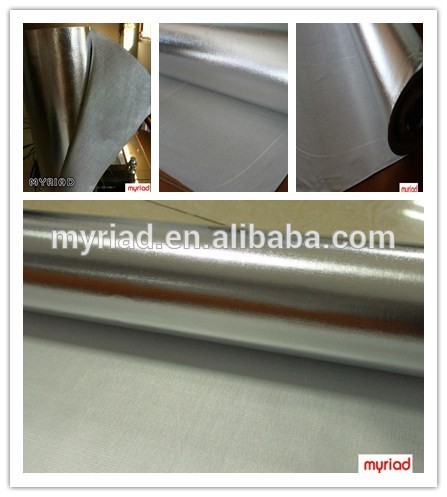 Features Our
Aluminum Foil
Fiberglass is effective and cost efficient radiant barrier and vapor barrier, it can be used on commercial buildings, gyms, warehouse, supper market and container liner etc. Approximately 75% of heat transmission is by radiation in the air, but most materials used on building absorb radiant heat, which makes the room temperature much higher than outsider in summer and colder in winter, and have air-conditioning system to work constantly. But foil insulation reflects up to 97%radiant heat, which makes it the ideal choice to provide optimum insulation against radiant heat and moisture vapor.
Aluminum Foil Insulation
keeps your room cool in summer and warm in winter.
It also used as packing material during sea transportation to protect big equipment, and keep vapor and radiant heat away from machine or other packed equipment.   Company Information   Wuxi MYRIAD Corporation is Located in Wuxi City near to Shanghai port. As one of the biggest manufacturer of aluminum foil insulation, we specialize in making FSK facing, Double sided reflective aluminum foil, aluminum foil woven,aluminum foil tape and so on. MYRIAD's superior performance, combined with top-notch quality,stability, and reliability, have continually attracted new customers worldwide. MYRIAD's material meets European standards, passed test of RoHs, SGS, Australian AWTA, BS476 etc.
However, MYRIAD's growth is not a tribute to the brilliance of our success, but that of the customers we serve. Through an unwavering dedication to quality, response, and service, we continually seek to help our customers achieve their goals. It's an attitude that puts our customers' needs first.
If you're new to MYRIAD, we invite you to try our products and feel what may call the 'MYRIAD Experience' - products are always delivered as promised and promptly. For those who have been with us these years, thank you for your recognition and making MYRIAD into a professional corporation in this line. We've come a long way together, but we have even more to come.
We guarantee personalized service and high quality products that can be customized to meet current and future market needs.   FAQ  1.How does Reflective Aluminum Foil Insulation work?
Reflective Aluminum Foil Insulations don't absorb heat, they block the flow of radiation.? Installing Reflective Aluminum Foil between the heat source (sun) and an existing insulation will improve the effectiveness of the R-Value rated insulation.?The reason is that only little part of the heat is now hitting the R-Value rated insulation and therefore, it will take longer for it to absorb 100% of its potential thereby holding the heat longer before passing out the back side into the room. Reflective Aluminum Foil reflects up to 97% radiant heat striking its surface.
2.How to install Reflective Aluminum Foil Insulation correctly?
It is important to maintain at least a 3/4" air space on the side of the radiant barrier you want to reflect heat. So you can prevent introducing any conductive heat flow to the aluminum to the aluminum foil facing and improve the efficiency for insulation.
3.What is R-value?
An R-Value is a measure of how long it takes a insulation to absorb 100% of its potential and begin to transfer the heat out the other side of the product. The higher the better.
4.Does Reflective aluminum foil insulation has a R-Value?
Reflective Aluminum Foil insulation doesn't have a R-Value, but for its ability to highly reflect the radiant heat and imperviousness to convection current(another way of heat transfer), it can improve the efficiency of insulation greatly.
5.What is a radiant barrier?
A radiant barrier is a layer of metallic foil that blocks radiated heat. Radiant barriers are generally installed in an attic directly under roof rafters to reduce unwanted heat gain from the sun. A radiant barrier material should be more than 99% aluminum and the emissivity value should be 2-5%.
6.What is Emissivity?
Emissivity is an indication of a surface's ability to emit heat by long-wave radiation. Most foil type radiant barriers have an emissivity of 0.05 or below, which means 95% of the radiant heat is being blocked.
7.Heat transfer mechanisms usually are grouped into 3 broad categories: 
A. Conduction:Transfer of energy through matter from particle to particle. Areas of greater molecular kinetic energy will pass their thermal energy to areas with less molecular energy through direct molecular collisions. 
B. Convection:Transfer of heat energy in a gas or liquid by movement of currents. The heat moves with the fluid. It includes free convection and forced convection.
C. Radiation:Electromagnetic waves directly transport energy through space. Sunlight is a form of radiation that is radiated through space to earth. Bright, shiny materials reflect radiation while dull, black materials absorb it.
8.Why an airspace is necessary adjacent to the radiant barrier?
When aluminum foil is in direct contact with another surface, it conducts heat at the points of contact. An air space will prevent conduction and allow the foil surface to reflect radiant heat.
9.What is the percent the radiant can reflect?
Aluminum foil reflects up to 97% of radiant heat.
10.Why should use aluminum foil insulation? 
Approximately 75% of heat transmission is by radiation, most material used on building absorb radiantion heat and re-radiate it, hwihc makes the room temperature much higher than outside, and have Air-conditioning to work constantly. But aluminum foil insulation can reflect 97% radiation heat, so it save your energy bill and provide you comfortable room temperature.
11.Whether need to tape the seams? 
To achieve an absolute moisture barrier, taping the seams is recommended. Contact us if you need more details on Aluminum Foil Back Fiberglass Cloth. We are ready to answer your questions on packaging, logistics, certification or any other aspects about Fiberglass Cloth Ht800、Aluminum Foil Back Fiberglass Cloth. If these products fail to match your need, please contact us and we would like to provide relevant information.
Product Categories : Fiber Glass Tissue